Belgocontrol wants to help develop wind farms in Belgium
Belgocontrol wants to actively participate in boosting alternative energy sources in our country. That is why our company is constantly looking into the possibilities to reconcile air traffic safety with the ecological objectives that the different public authorities in Belgium pursue.
September 28, 2017
Belgocontrol has revised its procedures for providing opinions on requests for building permits for wind turbines. That way, building developers will be better informed of the zones surrounding aviation equipment and whether or not they can build wind turbines there, even before submitting their request.
Belgocontrol provides an opinion for each request for building permits for wind turbines in the vicinity of airport equipment. The vicinity of major constructions such as cranes, buildings or wind turbines has an impact on the radio navigation, radar and communication systems that are used by both civil and military air traffic control. They can disrupt that equipment's signal, which can in its turn influence air traffic: wrong positioning of aircraft on the radar screen, aircraft that remain undetected or failing landing systems are but a few examples. Naturally, ensuring aviation safety remains Belgocontrol's main concern.
Survey map
In 2016 Belgocontrol performed a comprehensive study on the impact of wind turbines on its technical installations. On that basis the criteria that Belgocontrol uses in drawing up its opinions have been refined.
Due to the newest criteria there will be more space in the zones around aviation installations: ​ : the no-go zones are situated in a 10 km radius around the secondary radars, in the surrounding 10-16 km zones a study has to be performed by an external study agency. For the protection of the radio beacons the no-go zones have been restricted from a 5-kilometer radius to a 3 km one and the zones where a restriction applies have been reduced from a 10 km to 7 km.
The different zones have been clearly delineated on a full survey map. The map shows three types of zones with their own specific request conditions.
In red zones (no-go zones) no wind turbines are allowed because the impact on systems and operations would be too big;
Orange zones will always require research. Depending on the possible dangers, that research shall be carried out by an external study agency (among other things in the 10-16 km zone around the secondary radar) or by Belgocontrol itself (e.g. in the 3-7 km zone around a radio beacon);
For wind turbines in the light blue zones an analysis by Belgocontrol is required. Certain conditions apply to those zones as well, mainly regarding the height of the wind turbine, and a request has to be submitted.
Simply by looking at the map, wind farm developers can in advance assess whether or not their project is viable. That saves them having to go through administration unnecessarily as well as covering the costs of superfluous studies.
Faster opinion
Belgocontrol also reassessed the in-company process for treating opinions. Processing time for preliminary opinions will be shortened thanks to a new computerised request system. The opinion will remain valid longer from now on as well. The preliminary opinions that Belgocontrol issues will still be valid for a 2-year period. ​ Due to the newest criteria there will be more space in the zones around aviation installations: ​ The official opinion, delivered in the context of a permit procedure, shall be delivered faster and remain valid for the duration of the permit.
All information, including the request forms for temporary or definitive constructions on the Belgocontrol website, has also undergone an update so that applicants have a lot of information at their disposal before submitting their request.
The Belgocontrol opinions, along with other aviation-related opinions, are centralised with the Belgian Civil Aviation Authority (BCAA). For a full permit of course, other opinions are needed from non-aviation related domains.
The past few years Belgocontrol delivered positive opinions for a large part of the requests. For 2017, to date, we can already establish a strong increase in the number of requests.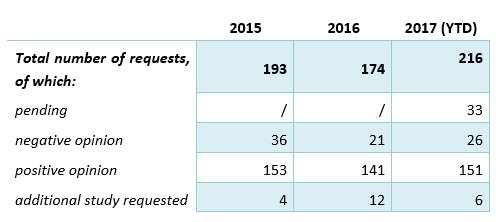 The future
Belgocontrol has started a feasibility study into the ways of reducing the impact of wind turbines on the existing technical installations (for the primary as well as the secondary radar and for radio and communication systems). By making use of innovative technologies, the protection zones around the technical installations could be reduced even further. Together with the relevant public authorities and the wind energy sector, zones could be defined which are interesting for generating energy. That would be beneficial to the wind energy sector, but would also allow to guarantee aviation safety at all times.
Belgocontrol CEO Johan Decuyper: "We have pitched our updated approach to the umbrella organisations, and their response was enthusiastic. We also invited Departement Omgeving (the Department of Environment of the Flemish government) as well as various provincial councils. Thanks to the new method we will do away with quite a few ambiguities, avoid red tape and open up possibilities for constructing wind turbines without jeopardising air traffic safety. That way, Belgocontrol will contribute to our country's energy transition and we take our social responsibility".