Long-distance drone flightsover the North Sea

The number of economically beneficial applications of drones within our society is increasing at a phenomenal pace. In order to to pave the way for longer-range drone flights (Beyond Visual Line of Sight - BVLOS) in the airspace over the North Sea and between the regional airports of Ostend and Courtrai-Wevelgem, the national air traffic authority skeyes and the West Flanders Development Agency (POM West Flanders) have launched a strategic and operational collaboration. This cooperation, planned for an initial period of two years, is based on airspace optimisation and the application of an operational framework developed by skeyes.
A partnership agreement has been signed by the two parties on 21 November.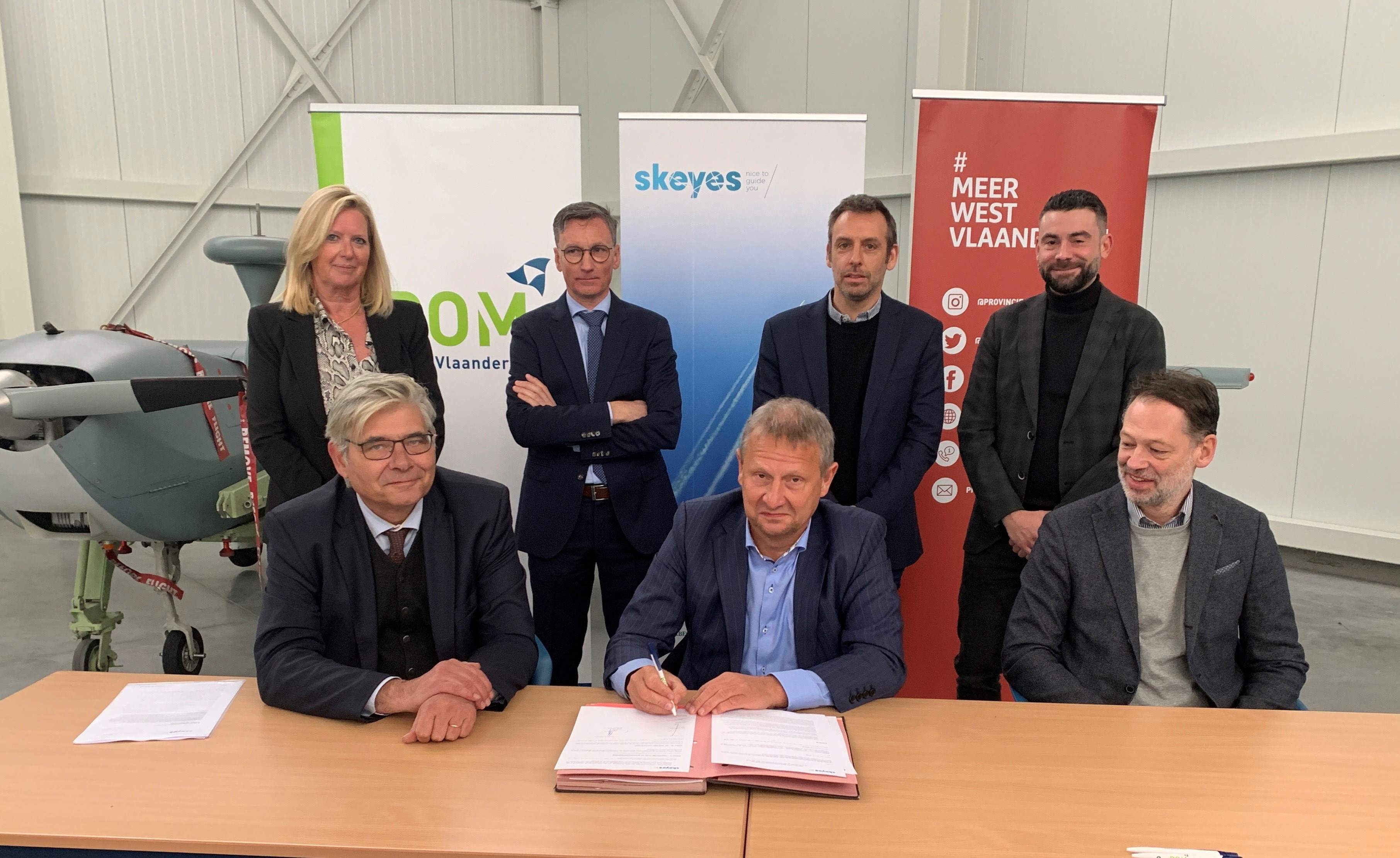 New drone applications
​Flights with Unmanned Aerial Systems (UAS) over longer distances have considerable potential for many applications, including inspection of offshore wind farms, surveillance of maritime emissions and many others. However, obtaining licences for such activities today remains extremely difficult for drone operators due to several regulatory restrictions.
With this in mind, the two parties have decided to join forces to tackle this challenge. By optimising airspace with clear rules for manned and unmanned aviation, they aim to pave the way for new drone applications. This collaboration is a response to the growing demand for the use of drones over longer distances, from both authorities and industrial players.
Operational framework
​The solution is based on the expertise of skeyes, which has developed an operational framework and a set of tools to integrate BVLOS drones safely and efficiently. This collaboration will create a favourable environment for the expansion of drone operations over the North Sea and between the Ostend and Courtrai-Wevelgem regions.
skeyes and POM believe this initiative will bring significant benefits to industries interested in long-distance drone flights. Together, they will actively work to define the standards, procedures and regulations needed to carry out these activities.
Over the next two years, this cooperation should pave the way for a significant expansion of BVLOS UAS operations over the North Sea and the region between Ostend and Courtrai-Wevelgem, providing a promising future for the drone sector in Belgium.
The partnership agreement was signed on behalf of the Provincial Development Corporation POM by Mr Jean De Bethune, Chairman and Mr Lieven Tack , Managing Director. Mr Johan Decuyper, CEO signed the document for skeyes.