skeyes performs very well as regards punctuality
Despite the continued increase in air traffic in Europe during last summer, skeyes' results in terms of punctuality are once again outstanding. With only 0.11 minutes of average delay per en-route flight in the first three quarters of 2018, the company has one of the best punctuality rates in FABEC (Belgium, Netherlands, Luxembourg, Germany, France and Switzerland). The number of air movements is increasing by 2.5%. A total of 845,477 flights were safely managed by skeyes' air traffic controllers from 1 January to 30 September.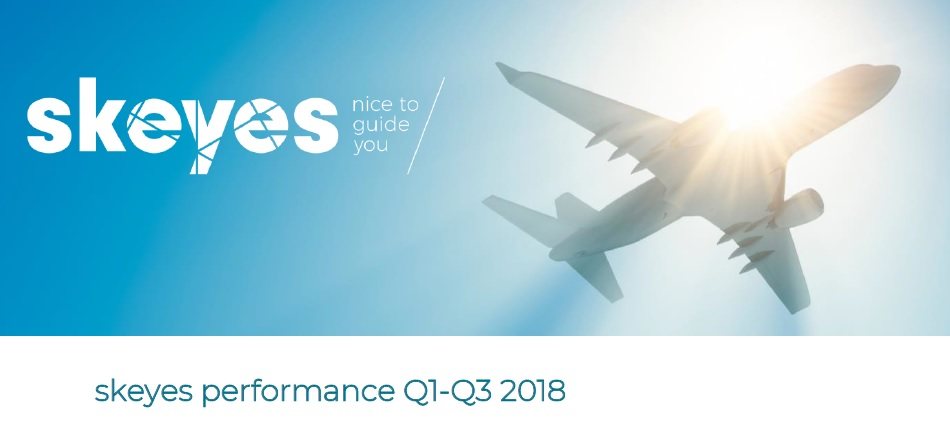 skeyes performance report - Q1-Q3 2018
PDF - 396 Kb
Download
November 27, 2018
During the first nine months of 2018, we observed the following results (which we compare with the same period in 2017):
skeyes controlled a total of 845,477 movements (+2.5%), with the following trends:
increase at CANAC 2 centre (467,507 movements, +3.7%);
increase at regional airports: Antwerp (45,294 movements, +3.1%), Charleroi (74,875 movements, +2.7%), Liège (44,556 movements, +7.2%) and Ostend (33,901 movements, +0.2%);
decrease at Brussels Airport (179,344 movements, -1.2%).
Aviation safety: two category B incidents were recorded (during Q1 and Q2). A third incident is under investigation (Q3).
The delay per en-route flight is 0.11 min. skeyes has the second best performance within FABEC (Belgium, Luxembourg, Netherlands, Germany, France and Switzerland).
In terms of delay per flight for arrivals, we record a decrease at Brussels Airport (0.04 min/flight, -53.2%) and Charleroi (0.02 min/flight, -49.8%). No delays for arrivals were recorded at Antwerp, Liège (-100%) and Ostend airports.
En-route service units are up (+1.8%), as well as for the terminal (+4.7%).